Male Breast Reduction
Male Breast Reduction in Los Angeles, Beverly Hills, Century City, Santa Monica
Dr. Fodor performs Male Breast Reduction in Beverly Hills and Surrounding areas of California.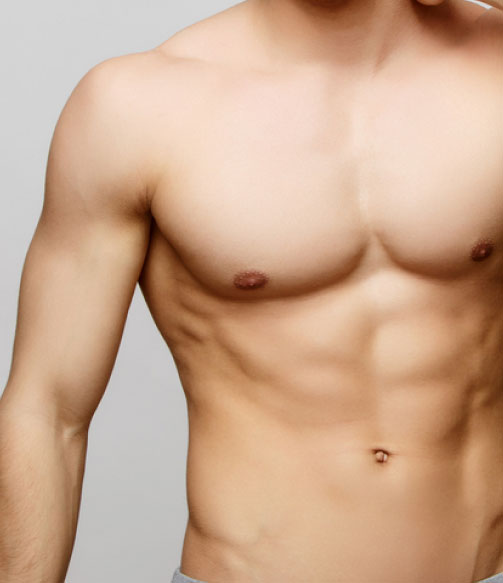 Male Breast Reduction
Am I a Good Candidate for a Gynecomastia Surgery?
Gynecomastia a term derived from the Greek words "gyne" (woman) and "mastia" (breast), is indeed a more common condition than generally realized. The presence of gynecomastia in the general male population is estimated by some to be as high as 40 percent in adults and 60 percent in adolescents. In adolescents, excess weight, or "baby fat," is often accompanied by an enlarged, fatty breast area. In most cases, this disappears in one or two years. In some individuals, however, the breast enlargement persists through adolescence and into adulthood. As this individual enters middle age, the midriff spreads, pads of fat gather at the waist ("love handles"), and additional fatty tissue accumulates at the breast. Between the ages of 50 and 70, therefore, gynecomastia becomes almost universal.
For men struggling with gynecomastia, breast reduction surgery in Santa Monica is the answer.
What are my Male Breast Reduction Surgery Options?
Gynecomastia can also occur in older patients being treated for prostate cancer with medications containing estrogen. Also, since the liver metabolizes estrogen, impaired liver function (such as in the case of an alcoholic) can also lead to gynecomastia. In very rare instances, a hormone-producing testicular tumor can lead to the condition. Finally, taking anabolic steroids as some bodybuilders do, as well as the recreational use of marijuana has been known to lead to gynecomastia.
What are my Male Breast Reduction Surgery Options?
Most gynecomastia cases are not related to systemic diseases such as the ones described above, and therefore may be corrected with modern surgical techniques. For those patients whose gynecomastia is caused primarily by excessive fatty tissue, liposuction alone will be used. Actually, the advent of liposuction revolutionized the treatment that can be offered to these patients. Since the breast tissue development that comes with gynecomastia consists primarily of fatty tissue, liposuction alone is sufficient in most instances. In Dr. Fodor's practice, not only flattening of the chest but actual sculpting, including a better definition of the pectoral muscle edge (pectoral etching), is also offered to these patients. The surgical techniques currently available for the treatment of gynecomastia make it possible to alleviate this embarrassing problem, benefiting Dr. Fodor's patients both physically and psychologically.
At your initial consultation, Dr. Fodor will discuss which option is best for you.
How Much Does the Surgery Cost?
The cost for a male breast reduction will vary depending on the severity of your case and techniques used for surgery. At your consultation, Dr. Fodor will be happy to discuss your options and cost based on your needs.
Call today to schedule your Male Breast Reduction Consultation in Southern California to begin your path to a more confident you!
You may also be interested in the following procedures rhinoplasty, liposuction or facelift procedures.